&&&&&&&&
YUGO-CUP Series, a one-make FIAT SOHC championship !

On the pic to the right you can see some action moments
from last season racing in 1,150 hybrid.

This season these amazing cars broke the 90HP/Ltr. "barrier", showing some amazing performance despite the
extremely limited class regulations (see below!)

This amazing power is another proof of the very efficient basic design of the FIAT SOHC engine.

It is tough and fun to drive in this aggressive "bumper-to-bumper" race series:

-Racebred SOHC Sound:)
-Min. weight 735 kgr.
-Max. capacity 1.150cc
-Single-choke carb 32 (!)
-Stock camshaft spec. (!)
-Free CR
-Min. Crank weight 9.3 kg
-Min. Flywheel weight 5.9 kg
-Min. Rod weight 0.62 kg
-Stock valve springs
-Stock valve size (!)
-Stock gearbox (no LSD allowed)
-Stock gear ratios
-Stock brake dimension
-Max. 13" wheels
-Road-legal DOT 175/50-13 tyres
(slicks not allowed)

These cars now produce lap times almost equal to
a Peugeot 106 rallye 1.3 Gr.N on slicks, and much of
this awesome performance is down to the wonderful
engine geometry and head design of the SOHC.

Zastava Koral (YUGO)
competition bodyshells!
SPECIAL OFFER!

We are able to supply to-special-order any number of original YUGO Sport-Department, factory reinforced race shells for circuit-competition YUGOs.

Features:

-Complete carefully selected bodyshell
-Double sheet metal in:
* front strut turrets
* front firewall
* front suspension mounting points
* rear suspension mounting points

-Fully seam welded (TIG)
-Lighter body panels in unstressed areas
-Fully integrated structural roll-cage 50mm. dia. (FIA)


This is a limited time offer! Please feel free to contact us for price & delivery details!

Bumper to bumper... 1,150 cc Zastava KORAL Cup!!!
Macedonian motorsport at its best!
If tou are interested in the technical details, buying/renting a car, or driving in this competitive
'trophy series', give us a shout on jupiter_ibc@lycos.com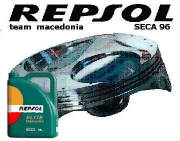 Other categories
(SuperSport 1,600, Hobby 1,600, Historic 750 etc..)